A fantastic way
to get into golf

Driving Range
Toptracer Range!
Rustington Golf Centre is fitted with 20 Toptracer bays whereby you can play a variety of virtual game modes such as virtual golf at Pebble Beach or St. Andrews, nearest the pin, points game, long drive and more! All within the comfort of your bay. You can also check your club yardages and record your own shot data on the warm up game mode. Make sure to download the official Toptracer app to keep track of the leaderboards and check out your stats from previous sessions. You can make the most of the Toptracer technology by joining in our local competitions or the Toptracer Global Events to win some great prizes and have fun! You don't have to be a pro (or even a golfer!) to enjoy playing on our driving range, just come along with some friends and give it a whack!
Bring your friends and family along to the driving range for a fun day out! We have a range food and drinks that can be taken out on to the driving range including panini's, bacon rolls, pastries, coffees and beers. There are a range of different games on our interactive screens suitable for everyone. Go Fish is our family favourite with beginners and children benefiting from shorter distance targets and a fun interaction on the screen.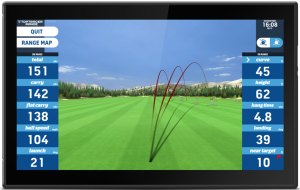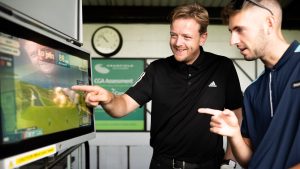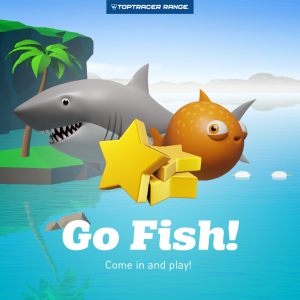 Book Your Driving Range Bay!
Do you want to skip the queue and guarantee a bay on our driving range? You can now book a bay for a 30 minute, 1 hour slot or a 2 hour slot on weekdays after 1pm and all day on weekends! Bays 10 – 14 will be available to book with the remainder of the bays being available for walk-ins.

* Please note booking is not required for the driving range. Should the bays be full we operate a queuing system.
Open To All...
The driving range at our Golf Centre is the perfect starting point for a beginner or junior to learn the fundamentals of the game or for a more experienced player to hone in their skills. With 28 floodlit, covered bays, 5 outdoor bays, and a large practice bunker, we have your practice covered, day and night, whatever the weather. The range is a fantastic way to get into golf , anyone can come along and give it a go.
We are fully fitted with 25 fully automated power tee bays with two hitting turf options to provide similarity to real course conditions. With high quality, 90 compression, 2 piece Srixon golf balls, you're sure to have a fantastic experience.
Make sure to check out our Facebook and instagram pages and subscribe to our mailing list to keep up to date with all the latest information.
We hire golf clubs for the driving range.
Please be aware we are only accepting card payments in centre.
ACTIVITY
FEE
HOW TO BUY

Range Baskets - 25 Balls

£4.00

Purchase on site

Range Baskets - 50 Balls*

£7.00

Purchase on site

Range Baskets - 125 Balls

£11.00

Purchase on site

1 Hour Range Bay - includes up to 150 Range Balls

£18.50

BOOK ONLINE

2 Hour Range Bay - Includes up to 300 Range Balls

£35

BOOK ONLINE

Gold Range Card - pre-paid balls credit with £25 free extra credit

£125.00

Purchase on site

Silver Range Card - pre-paid balls credit with £10 free extra credit

£65.00

Purchase on site

Bronze Range Card - pre-paid balls credit with £5 free extra credit

£40.00

Purchase on site

Driver + 7 iron Hire

£5

Hire on site

Please note we are card only and do not accept cash payments.

* Prices may be subject to change and terms and conditions apply. Please note last range balls will be served 30 minutes prior to closing time.