Course Manager Update
Maintenance Week
Report below from our Course Manager Rob Hill on Maintenance Week which took place week commencing 7th.
Week commencing 7th August we had maintenance week, we started off with a deep double verti-cut, this removes lateral growth and also removes a small amount of thatch (body fat for grass), we then followed up with a double cut to clean the surfaces up. The next phase was to overseed the greens with Dwarf Rye Grass, this grass type is very hard wearing and has quick establishment, so ticks many boxes for us here at RGC as we get double the foot traffic compared to other courses and wear is our biggest issue on the course. Going forward we will be changing what grass type we overseed with as we want to focus more on overall green performance.
The next phase was to heavily Top Dress the Greens, we put down approximately 42 tonnes on the greens this Course Maintenance and overall in 2023 we have put down tonnes, that is a lot of sand for 10 greens. Top dressing aids drainage, dilutes organic matter and makes the greens firmer. All season we have also completed fortnightly light dustings of top dressings, this aids trueness and fills in unrepaired pitchmarks.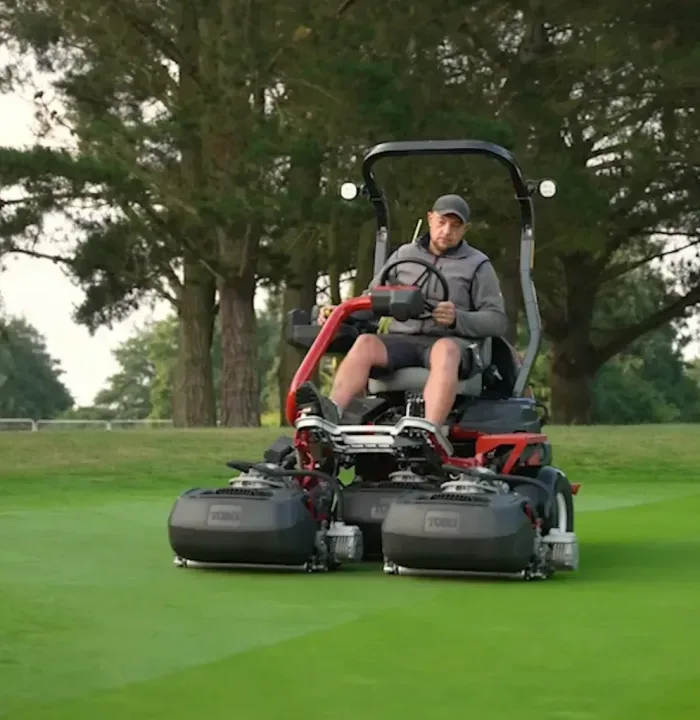 We then aerated the greens by Verti-Drained (Spiked) to 10 inches deep using 20mm thick tines and then followed that up with a 4 inch deep solid tine using our Pro Core. We dress the greens first as we get more into the holes by tining the dressing into the greens then brushing the remaining sand into the holes until they are completely filled.  Aeration allows the grass to breath by allowing air to reach the root and also encourages the grass to root deeper as the roots will grow down into the channels created by the Vert-Drain and Pro Core. As previously stated RGC gets double the foot traffic, so aeration is essential as it also relieves compaction caused by machinery and golfers.
We then finished with a double Sarel Roll (light spike) and a double roll with our turf iron to help get the surfaces playable. Lastly we sprayed the green with a wetting agent, Seaweed and Amino Acids to relieve the stresses of the work we carried out and help with recovery.  The seed germinated in 5 days and is gradually thickening up and soon you will never know we did any work to the greens.
We also Verti-Drained, Solid Tines and Verti-Cut all Tees, to prepare them for the winter.