Fun for all the family
Junior Golf
At Rustington Golf Centre we think it's important to grow the game of golf and give kids and young people access to the game that is affordable and in a fun and safe environment. We have a fantastic junior membership option, anyone under the age of 20 falls in to the junior membership category and is entitled to significantly reduced fees. Junior membership being £55 for the year. This gives juniors unlimited access to the main course, Academy Course, Par 3, and eligibility to play in junior competitions which are held on a regular basis. Our junior organiser, Rob Chruszcz, is also a full time golf coach at for Cranfield Golf Academy here at the golf centre and is committed to helping juniors develop, improve their skills and ensure they enjoy golf.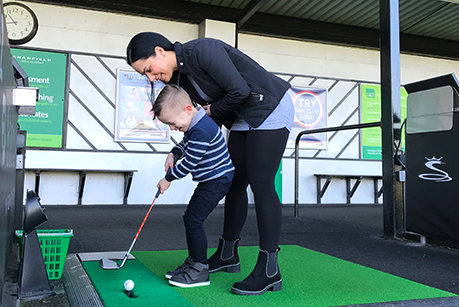 There is a regular par three competition open to all RGC junior members. All juniors who play in the competitions receive an unofficial handicap, this works the same as an official handicap and is a great way of introducing juniors to the handicap system. The maximum score on any hole is a 6, therefore maximum handicap is 27. You do not need to sign up for this competition, just turn up!
The Cranfield Golf Academy at Rustington Golf Centre offers group coaching sessions for juniors aged 5 – 12. These take place after school and at weekends and run in conjunction with the school terms. The classes not only aim to develop golfing ability, but also to build self-confidence, social skills and self-esteem. Classes are limited to a maximum of eight people and no previous experience is necessary. The first session is free and discounted prices are available when two or more family members sign up for the classes. Term time coaching is £9 per session. Individual lessons are also available for juniors. Cranfield Golf Academy also organise junior golf camps that run in the school holidays. All camps run from 10am – 3pm, there is also the option to do half days.
All our coaches are CRB checked and we operate a structured Child Protection Policy which you can download here.
If you would like to discuss junior membership or coaching further, please feel free to contact the Junior Organiser, Rob Chruszcz
Pathway for junior golfers to learn
Free taster session
Group lessons
Regular Par 3 competitions
Main course competitions