'Tees the season'
Christmas at Rustington Golf Centre
With Christmas just around the corner, what better way to get festive than to do some Christmas shopping or play some Christmas golf here with us at Rustington Golf Centre. Here at RGC we have the perfect Christmas gift ideas and activities to make your festive season both magical and fun for all the family. Here are seven Christmas gift and activity ideas that will make your Christmas one to remember.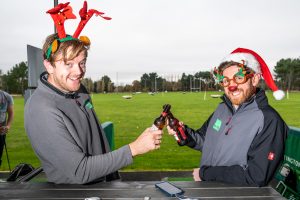 Fancy dress golf!!
Everybody loves dressing up at Christmas! Whether it's the kids in their cosy Xmas pyjamas, your mum in her Christmas day dress or your brother who reluctantly has to wear your Nans traditionally knitted Christmas jumper every year, there's something about the festive season that makes us wear things differently. Why not get a bunch of your best mates together or hit up the family WhatsApp group and organise a round of festive golf on either our par 3 course or our par 70 9 hole course. Fancy dress is of course, optional, but it'd be fun see a few ugly Christmas jumpers and Rudolph the red nose reindeer outfits around the Centre in December. If not only to give our staff a giggle.
Christmas Vouchers
We have an array of golf related vouchers available to purchase from us here at the Centre. From smaller gifts like our 'Bucket of Balls and a Beer' voucher for the driving range, to the more extravagant 'All Inclusive Voucher' entitling the recipient to a round of golf on all three of our courses (par 3, academy & par 70). We can offer the perfect stocking filler for your golf obsessed loved ones. You can purchase all our vouchers by visiting our online store at www.rgcgolf.com.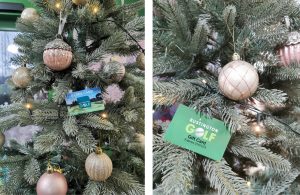 The Gift of Golf Membership
The end of each year is a time for people to reflect and evaluate the things that have been, and make promises and plans for the things to come in the new year ahead. For the committed golfer, or the newcomer who wants to challenge themselves this coming year and set targets for improvement in their golf, what better gift than a membership to Rustington Golf Centre? We have different memberships to suit all needs and budgets, from our full memberships, our junior and intermediate rates, to our points based flexi memberships. We can organise the memberships discreetly and post out membership cards to you for that perfect surprise on Christmas morning.
American Golf Store
There's nothing wrong with a little retail therapy, and at this time of year, buying gifts for our friends and family, or even for ourselves, is a part of the enjoyment and magic of the season. Our American Golf store carries the best and most up to date clothing, shoes and equipment for all your golfing needs. If you're not sure what to pick, gift vouchers can be purchased at any price up to £999, allowing your loved one the opportunity to come and do some shopping for themselves.
Christmas Competitions
Games and friendly competition are part and parcel of the whole Christmas experience. There's nothing like a Christmas party with your work colleagues or a family gathering to get the competitive blood flowing in a spirited game of charades or monopoly . With the thought of friendly competition in mind, why not join us at RGC and see if you could win one of our top-tracer competitions that we run at the driving range. Alternatively, gather together a group of your best buds and play one of the fun games available through our Top Tracer technology. See who can win the Long Drive, hit the ball nearest the pin, or score the most points in a game designed to test accuracy. Remember to keep it clean and play nice, it is Christmas after all.
Golf Lessons with Cranfield Golf Academy.
Our coaches at the Cranfield Golf Academy offer a wide range of lesson options for golfers of all ages and abilities. Perhaps your youngster would like to get involved with a weekly golf coaching session for juniors or you would like to take your golf to the next level over the coming year. Block booking and vouchers are available to purchase. For more details you can email the academy directly at rustingtoncranfieldgolf@gmail.com or find more contact information on our website at www.rgcgolf.com.
Driving Range Socials
Our driving range is the perfect space to gather friends together for a Christmas social. A bit like an outdoor bowling alley our Top Tracer technology offers games you can take part in together. Play virtual golf, go fishing, or play nearest the pin, all you need to do is come and purchase some balls from our main reception, hire clubs if you don't have your own and get out there and do your best tiger woods impression. To make things extra festive, make sure to grab yourself a Gingerbread latte or a warm Hot chocolate on the way through.