6 Week Challenge!
Toptracer Summer League
What is the summer league?
Get ready to elevate your golf game this summer! We're excited to be holding a 6-Week Toptracer Challenge, where you can showcase your skills, compete for weekly prizes, and seize the opportunity to claim the ultimate victory.
Here's why you won't want to miss out on this incredible challenge:
Weekly Excitement: Each week, a new challenge awaits. Put your precision, power, and finesse to the test as you tackle diverse range of Toptracer challenges to test every aspect of your game. The game mode and hole for the week will be posted on this webpage, on Facebook and sent via email to everyone on our mailing list!
Prizes Galore: Aim for the top spots! The 1st and 2nd place finishers each week will be rewarded with fantastic prizes, fueling your competitive spirit and driving you to push your limits. But that's not all—by securing a top spot in any week, you'll also earn a place  in the final event in September.
The Grand Prize: The final showdown in September promises a thrilling and fun final playing against all other winners. The winner of the grand final will receive a Gold Range Card providing access to our driving range and ensuring hours of practice and improvement for your golfing journey.
The best thing? Unlike a traditional game of golf, each challenge can take as little as 10 minutes or as long as as several hours depending on how much time you have to spare. Play as many times as your like and climb that weekly leaderboard!
Don't miss your chance to be a part of this summer challenge! Visit the Toptracer app and check out our 'Event Section' and click register on each weekly challenge!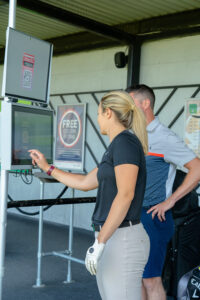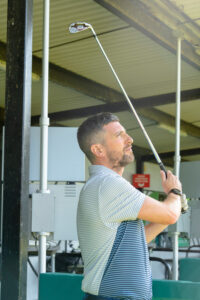 Week Three:
31st July – 6th August
Spanish Bay hole 16
Prize:
1st Place – Round of golf for 2 people on the Par 70 course.
T&C's:
Competitors must register for the event in order for their score to count (on the Toptracer Application).
Closest to the pin wins.
In the event of ties a name will be drawn at random.
This competition is for Ametures only and not open for professionals or staff of the Golf Centre, American Golf.