Perfect for the improving golfer
who wants to enhance their short game.
Par 3
The Par 3 and Academy Course are a perfect gateway for new golfers looking to progress their skills before heading onto the main course or if you're just looking to dial in your short game. The Par 3 is one of the more relaxed and casual environments to play and practice golf at the centre. With no dress code and a range of clubs to hire, it is a great activity for golfers and non-golfers alike.
Please note the Par 3 course is closed between 12:45 and 16:30 daily for Footgolf & Discgolf.
Course Map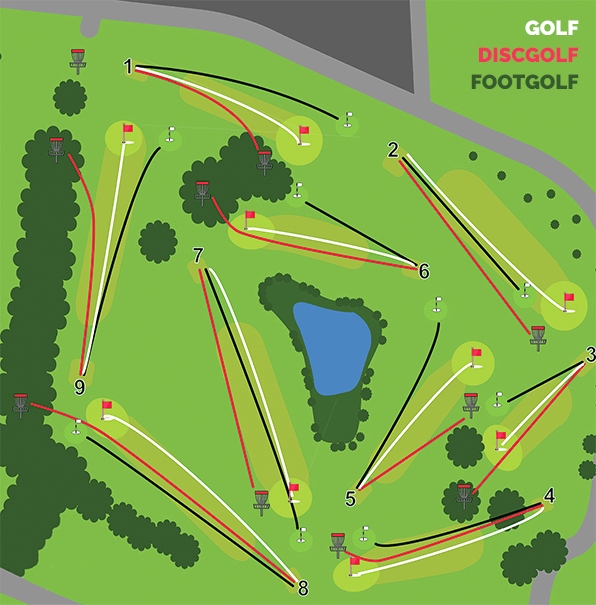 The Par 3 course is made up of 9 holes between the yardages of 45-110, and the academy course is 3 holes between 122-161 yards. These distances give ample opportunity to practice short game all the way to mid iron shots.
Foot golf and Disc golf
Our Par 3 course is also home to two different activities between the times of 1:00pm-4:30pm – Foot Golf and Disc Golf!
Foot Golf has been running at Rustington Golf Centre of several years now and is extremely popular, it's a great activity for families, groups of friends and parties. It runs alongside the Par 3 golf course. The aim is to get around the course in as few kicks as possible.
Disc Golf is brand new to Rustington Golf Centre! Disc Golf is played with a Frisbee and the aim is to throw it in the baskets set around the course in the least amount of shots possible. Come along and give Disc Golf a go!
Booking for Foot Golf and Disc Golf is taken through the Out of Bounds website</ span>
5 Reasons To Play The Par 3 Course!
Check out our latest blog on why you should give our Par 3 Pitch n' Putt a go.