Perfect for the improving golfer
who wants to enhance their short game.
Par 3
The Par 3 and Academy Course are a perfect gateway for a new golfer looking to progress their skills before heading onto the main course. The Par 3 is one of the most relaxed and casual places to play and practice golf in Sussex. With no dress code and a range of clubs to hire, it is a great activity for golfers and non-golfers alike.
Course Map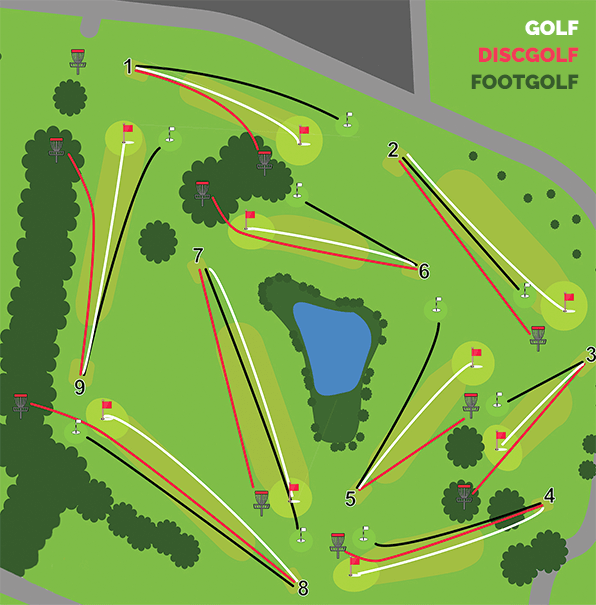 The Par 3 course is made up of 9 holes between the yardages of 45-110, and the academy course is 3 holes between 122-161 yards. These distances give ample opportunity to practice short game all the way to mid iron shots.
Foot golf and Disc golf
Our Par 3 course is also home to two different activities between the times of 1:00pm-4:30pm – Foot Golf and Disc Golf!
Foot Golf has been running at Rustington Golf Centre of several years now and is extremely popular, it's a great activity for families, groups of friends and parties. It runs along with the Par 3 course with "golf" holes. The aim is to get around the course is as least kicks as possible.
Disc Golf is brand new to Rustington Golf Centre! Disc golf is played with a Frisbee and the aim is to throw it in the baskets, set around the course, in the least amount of shots possible. Come along and give Disc Golf a go!
Booking for Foot Golf and Disc Golf is taken through the Out of Bounds website</ span>